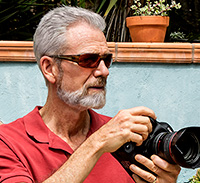 WHO I AM AND WHAT I DO
I was born in Abington, Pennsylvania at the mid-point of the 20th century and had a somewhat changeable childhood, attending a different school, sometimes more than one, every year until the eighth grade. These numerous "changes of venue" (in Concord, Massachusetts and Arlington, Virginia) made me adaptable to new situations and people.
My family's final move was to Santa Barbara, CA when I was 11. After completing high school, I received a B.A. degree in printmaking from the University of California, Santa Barbara. I attended the San Francisco Art Institute graduate degree program, then lived with my wife on a school bus I converted, before returning to Santa Barbara to live on a houseboat.
I took many photographs after inheriting my grandfather's Leica in high school, but I didn't make photography a profession until much later. Twenty years ago, I was doing graphic art and illustrations, when the need for photos for a local ballet company prompted me to give it a try, and it clicked! That led to more jobs with other local performing arts organizations and now I have a long list of clients keeping me busy year-round. I am mostly self-taught and have developed my techniques by taking many thousands of photos in new and challenging situations on a constant basis.
I am also a professional videographer and editor: I filmed a segment for Speaking of Stories with Elliott Gould at his home; filmed and edited a performance by John Cleese and the Los Angeles Guitar Quartet of "The Ingenious Gentleman Don Quixote of La Mancha"; filmed and edited a performance of "One Radio Host, Two Dancers" by Ira Glass and Monica Bill Barnes Dance; edited a tribute to Cyd Charisse in MGM musicals narrated by Frank Reis; made a movie of Emmy-winner Robert Sund's "Alice" ballet; filmed the Juilliard String Quartet for the Library of Congress; filmed Hell's Kitchen Dance with Mikhail Baryshnikov; made a documentary about the Santa Barbara Summer Solstice Celebration.
I've created numerous animations for projected scenery during live performances and filmed and edited demos and short documentaries for many of the performing arts groups I photograph, as well as other clients.
"David has an eye for the emotional peak in the performance. One reason he is so good at capturing that spiritual moment is because he intuits the feeling and movement of the music." – producer Peggi Jones, Sings Like Hell
"David Bazemore is simply the best! He captures shots that, year after year, take my breath away. He has an uncanny ability to be in the right place at the right time. This is amazing when you consider that he is not shooting staged pictures, he is shooting performances while they are in progress, and managing to keep abreast of, and tell, the whole story! David Bazemore makes me look very good at what I do!" – Actor, Playwright & Director Emma-Jane Huerta